Behind the Scenes, and Always One Step Ahead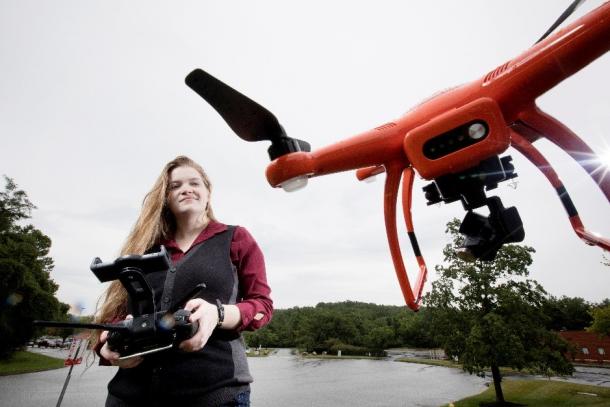 Protecting your personal data is challenging, when threats from hackers, new malware and vulnerable platforms are a constant battle. Imagine when the stakes are even higher—helping governments and militaries around the world protect their platforms, systems and data from constantly evolving threats.
Lockheed Martin's Cyber Solutions and Spectrum Convergence teams deliver full-spectrum cyber capabilities and cyber resilient systems to defense, intelligence community and global security customers.
Gisselle Hoover, a cyber intel analyst, loves her job of delving into devices and systems.
"It's not so much how to use these technologies; it is more about finding out what all these devices are actually doing," she said. "We need to make sure they're doing the right thing and talking to the right other devices. I get to work on everything behind the pretty screens everyone sees."
Gisselle joined Lockheed Martin three years ago after graduating with bachelor's degrees in electrical engineering and history from the University of Texas at Dallas. A third-generation electrical engineer, Gisselle grew up with curiosity and love of building things, reconfiguring components and creating something even better.
She had plenty of career choices after graduation, thinking she would work on traditional electrical engineering projects.
"When I was looking at jobs after I graduated, I had a couple of interviews, but the one at Lockheed Martin was by far the most interesting," she said. "Most of the questions during my interview for the Counter Unmanned Aerial System (CUAS) project were hypothetical. Like, 'If you had to protect an area from drones what might you do?' It was a very open-ended dialogue, with the person interviewing me saying that 'we do a couple of those things and here are the ones we're working on in this department.' It was all really interesting stuff that I wanted to work on."
Gisselle has since moved on from the CUAS project to similar work in signal processing and evaluation, most of which is classified. "My team gets to do really cool and interesting work. We can't talk to people about it. We're working with real threats and do useful, practical analysis. Then, we implement that to show that this does make a difference with 'x' new device or 'y' new signal that's out there."
When Gisselle isn't protecting customers' data and missions, she is providing cybersecurity training to help people understand how to securely use new capabilities and understand the associated risks.
"There is so much more involved in cyber than just technical, code writing," she said. "How do you best design cyber training to teach people about security risks in such a way that they'll actually remember and do something about? That's not particularly a technical, math or programming kind of problem ─ it's very much a people equation which can be the more difficult challenge."
Gisselle is also helping to foster the next generation of cybersecurity professionals through Lockheed Martin's STEM programs for elementary, middle and high school students.
"It's so much fun to go to these events and talk to the students about the work we're doing," Gisselle said. "And things they could be doing in the future."
Interested in joining Gisselle at RMS?
Lockheed Martin's Rotary and Mission Systems team is looking for qualified candidates across many opportunities, including:
Cyber Architects
Software Engineers
Systems Engineers