What's On Our Radar?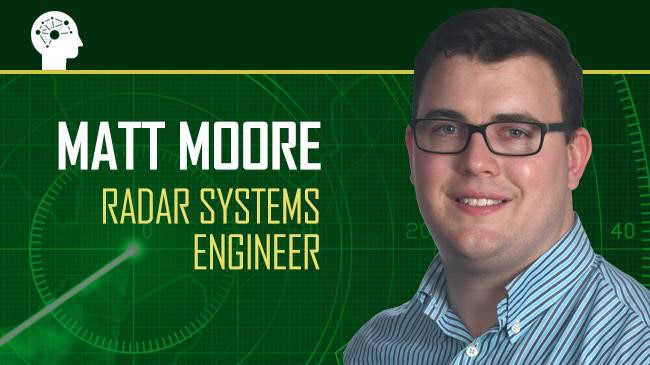 Technology is constantly evolving, and with that, our adversaries' threats are rapidly changing, too. It's up to Lockheed Martin to always remain one step ahead to effectively detect and defeat adversarial threats.
We're developing the next generation of radars and systems that can quickly detect, track and classify threats, leveraging the latest technology evolutions.
Did you know we've designed and delivered radars and sensors for every armed service and operational environment? They collect and transmit imagery and sensor data that informs critical decisions made by national leaders, warfighters, intelligence agents and emergency responders, as well as public and private sector officials.
Cool, right?
Radar engineers like Matt Moore make this possible using advanced radar technologies that are second to none. The evolution of our 60-year history of building radar systems provides the foundation for our advanced radar technologies in all domains.
Matt and his team are developing transformative sensor technologies to support multiple missions simultaneously.
Imagine having conversations with 15 people and being able to process information from those conversations at the same time. That's essentially what Matt and others do with the electromagnetic spectrum through sensor technology to take on new threats and confront them in the battlefield. It's radar innovations like this that are vitally important to our customers' missions and global safety.
"Radar is one of the few technologies that has the aptitude to track hundreds or thousands of kilometers away with a high enough accuracy to shoot a missile at a target," said Matt. "Using special technologies, we have taken on some of the most challenging problems in sensor development."
The team works with the best of the best across the corporation to tackle the daily challenges associated with sensor technology.
"The most exciting part of my job is when we tackle hard problems that we have not encountered before," Matt said. "I like working with the advanced programs group, because often, they assign us a new system or program we have not yet worked with. As a team, it's up to us to go back to the engineering basics, conduct research and develop new technologies to solve hard and interesting challenges."
If this sounds like exciting work Matt is the first to agree. "It's a great time to be a radar engineer."
Lockheed Martin needs more talented individuals to help shape the future of radar. Our engineers will support the design, integration and test verification of our next-generation, large-scale, high-performance radar systems.
Join our team today!
© 2018 Lockheed Martin Corporation.