Electronic Warfare: More Than Meets the Eye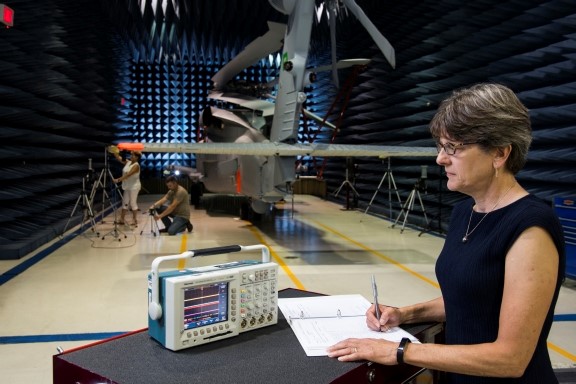 Working in electronic warfare brings new meaning to the phrase "thinking on your feet." Karen Petzold, a systems architect in Owego, New York, works on a team with colleagues who put their minds and technical know-how together every day to design capabilities that protect the warfighter.
Electronic warfare, or EW as it is more commonly known, is a critical skill we look for at Lockheed Martin. EW uses the electromagnetic spectrum through radars to protect and support our troops and allies. Essentially, it provides situational awareness in the battlespace to ensure crews on land and sea can safely achieve mission success.
Learn more about RMS electronic warfare.
Looking for your next challenge? Check out the RMS EW openings.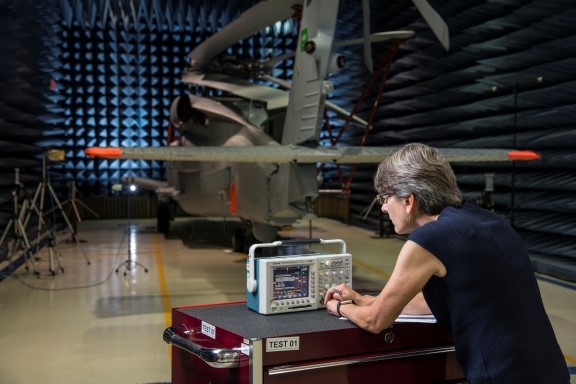 Karen works primarily in airborne EW, and her efforts help ensure that the pilots and crew are protected from incoming electronic attacks, while also providing a means to counter-attack EW threats.
Crews affected by electronic attacks lose the ability locate targets and defend against enemy artillery. A counter-attacking electronic attack sends an electronic signal that jams a target's defense and attack mechanics.
Working in the EW business for more than 30 years, Karen knows that as technology advances, so do the challenges and capabilities of EW. "There is a constant evolution of capabilities in EW and how an adversary might counter," Karen said. "It's very technical, and I like the technical challenges that EW presents at every turn."
Karen believes EW will only increase in importance and career opportunities. "There are more platforms requiring EW for protection now and the threats are also rapidly acquiring new abilities that we must know how to counter. EW can be challenging and rewarding for someone who possesses strong technical or leadership skills, and has a background in engineering, physics or advanced mathematics."
Identifying and countering threats is a daunting task, but learning from some of the best minds in the EW business like Karen, we enable anyone with the necessary skills to succeed.
© 2019 Lockheed Martin Corporation.