Our Inclusive Hiring Programs
At Lockheed Martin, our mission is the success of our customers. To meet the needs of our customers, our workplace must be diverse and inclusive, which includes the employment of individuals with disabilities. Lockheed Martin is committed to building and sustaining a diverse, equitable and inclusive culture. Our company supports individuals with disabilities by providing reasonable accommodations to remove identified barriers that may arise in the completion of essential job functions. Lockheed Martin empowers disabled individuals to thrive at work by ensuring accessibility and providing the accommodations and supportive culture needed to succeed.
Our Commitment
Lockheed Martin strives to further build and sustain an inclusive company culture. To reinforce our commitment to inclusion, we pursue the employment of diverse candidates, including individuals with disabilities and foster an environment where there is a sense of belonging for all. To bring awareness and demonstrate our support of the disabled community, we annually participate in many targeted activities through our business resource groups, internal initiatives and participation in national events focused on disability inclusion.
Global Diversity and Inclusion
Request Reasonable Accommodations
At Lockheed Martin we strive to make our workplace and processes as inclusive as possible. If you have a disability and need a reasonable accommodation, we have support for you every step of the way. Learn more below.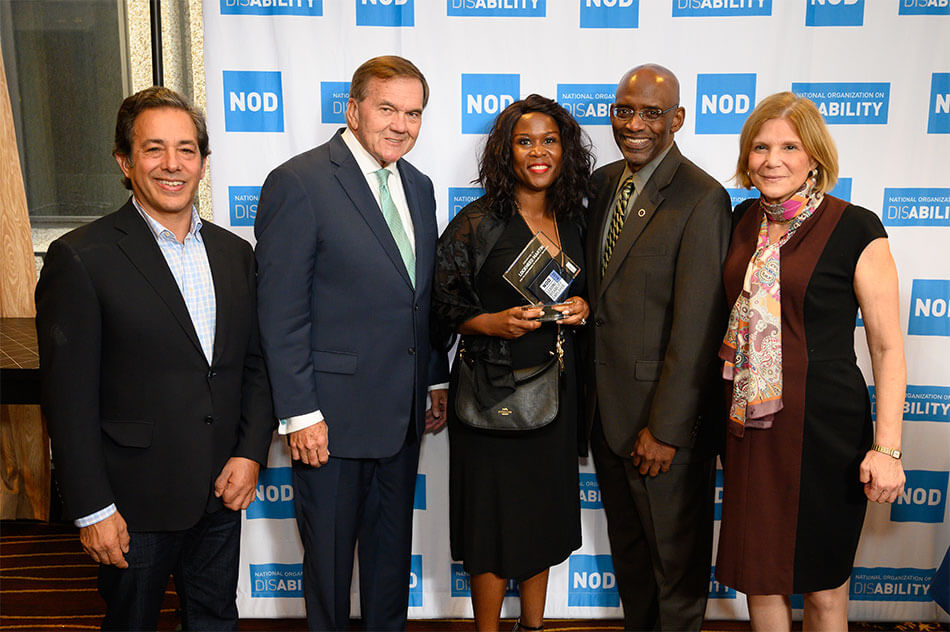 Lockheed Martin employees accept the 2019 Leading Disability Employer Award on behalf of the National Organization on Disability alongside NOD representatives. Lockheed Martin is also honored to be recognized as a 2020 Leading Disability Employer.