Building the Greenville Workforce Pipeline
As global demand for new-production F-16s continues to grow, so does the need to increase Greenville, South Carolina's workforce. The site plans to add hundreds of new jobs over the next three years to support current contracts.
To address this need, the site is working closely with local and state partners, such as Greenville Technical College, ReadySC and the SC Technical College System to create an additional talent pipeline for the Greenville workforce for both sustainment and production aircraft technicians. Just this year, Greenville launched its first-ever Pre-Apprenticeship Training program – positioning Lockheed Martin Greenville for current and future growth.
Today, two of the program's first cohorts are now proudly supporting the F-16 production line, demonstrating the immediate value of programs like this for the site, local community and F-16 team.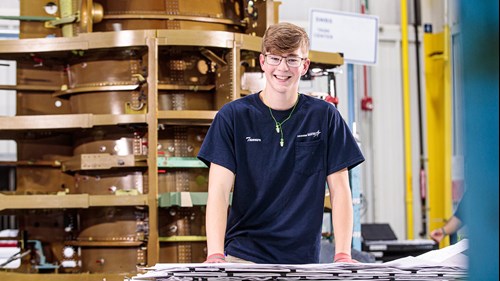 Pictured: Two of the Pre-Apprenticeship Training Program's First Cohorts Supporting F-16 Production: Tanner H. (top) and Bradley V. (bottom).